What-ho and hello dear fellow embodied mind; welcome. I'm in the early midst of cultivating a new and unfurling spellbook for us all. Something we might call:—
'A Post-Authentic Guide to Roleplaying Life'

—or maybe not. Who knows! Anyhoo, you are warmly invited to revel in the awkwidity of this unfurling process. Sign up to receive updates, as and when they occur—or become a supporter-subscriber and unlock bonus access to The Ritual of Becoming.
Get free updates from The Character Handbook and perhaps: The Ritual of Becoming.*:・゚
Why sign up?
Curiosity and amusement, mainly. This may very well become A Metamodern Guide to Character Development.
I'm motivated to write this because I so very often find myself quietly dissatisfied with the many sermoning 'self-development' tomes proliferating our noösphere. Existential crises are happening sooner and more often to more of us now; all to the background pensive hum of anxiety (and the alienation of modern life).
As an Elder Millennial, Rogue Scholar and Archwizard of Ambiguity—I thus feel duly compelled to share something more effectual and apt for our times.* Something that takes onboard newfound philosophical sensibilities—whilst also rekindling a sense of enchantment in life. (Even for the sceptical and jaded among us; perhaps especially so).
* Or at least; to make a fool attempt to do so.
And so here we are. I'd love for you to join me.
Oh yes, and then there's also…
This is, perhaps, the most powerful spell I know. An ~open secret~ shared through the epochs via the trickster gods and their infinite players. The means to better find and fabricate meaning, myth and enchantment in life.
The 'Choose One Word' Ritual of Becoming is a comprehensive online programme for anyone seeking to rekindle a sense of coherence, meaning, mattering and (heaven forbid) 'purpose' in life.
The tuition-donation is $50/m or $150/y.*
Or completely free if your luck is down.°
* Think of it as a tribute—your donation allows me to continue doing this work (and is thunderously appreciated).
° See the faq below.
It takes introspection, imagination and a hint of thyme to do this well—it's a ritual, not a mere incantation or magic wand. But if you seek The Wit to Find Your Way—if you quest for new and meaningful progress in life—this may be just the ticket.
Here follows some promotional propaganda for the programme.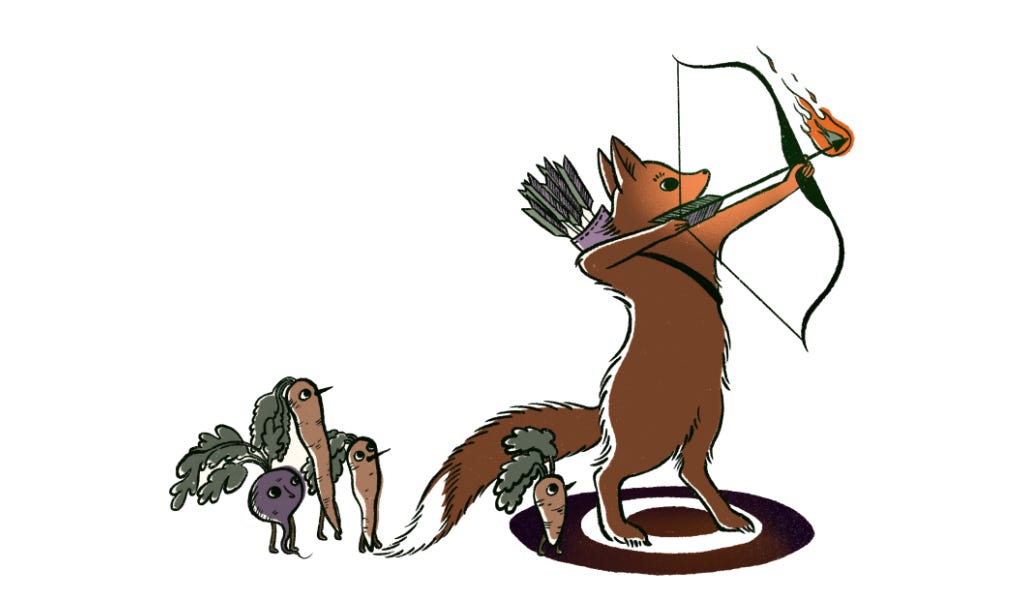 WHAT-HO AND WELL MET, FELLOW MIND
In over a decade of research as a wizard, I've encountered much in the field of self-development that is superficial and suspect—but the Ritual of Becoming* is deeply wondrous, useful and apt. It has a fractal quality to it; it holds stable, useful and 'true' —no matter how complex your life may be. If you find yourself at a crossroad or in a rut—this programme is for you. Discover (if not who you are, then) who you might be.
* This programme was previously also known as the 'Choose One Word' programme.
You were taught to 'dream big', 'set a goal' and 'believe in yourself'
Quaint. But maybe you've outgrown this?
» DREAMS ARE NICE—BUT THEY CAN BECOME TYRANNICAL NARRATIVES
It's also okay to not know exactly what you want in life. It may even be better. Besides: people change—our 'dreams', 'passion' and sense of 'purpose' (if we have such) are thus fluid narratives.
» GOALS ARE FINE—BUT ONLY WORK IN STABLE ENVIRONMENTS
If you're training for a competition, go nuts. But if you are attempting to find meaningful progress amidst the complexities and ambiguities of life—you need a more infinite approach.
» SELF-BELIEF IS A PARADOX
If we believe too much in who we are, our sense of 'identity' can become ossified—making it harder to develop and grow. Believe in ourselves too little and… well; there's wisdom in that. Thus we cultivate character instead.
Maybe you're now trying to optimise your life with systems?
Good luck with that. I mean this earnestly; luck is a contextual grace. You'll need it, for life is far too complex to contain within any particular system or context. Habits and systems are great—but sometimes the systems we build to 'optimise' our lives become the very cages we need to break free from.
The Ritual of Becoming will help you Find Your Way…
Or rather: it will help you cultivate the Wit to make your Way anew.
"Better to operate with detachment, then; better to have a way but infuse it with a little humor; best, to have no way at all but to have instead the wit constantly to make one's way anew from the materials at hand."
― Lewis Hyde, Trickster Makes This World: Mischief, Myth, and Art
… with 70+ video modules to help you know/make thyself
All with accompanying journalling prompts and guides.
You needn't watch every one of them—but they're there for you, should you need. Peruse the full/unfurling curriculum/contents here.
The Ritual of Becoming will see you deeply introspect and reflect upon the patterns that manifest in your life—the ways in which you interpret 'who' we are, the factors that are more likely to see you fulfilled, and the sense of what might be emerging for you in your next chapter.
Perhaps it's time to imbue your life with new enchantment, wit, wisdom and savvy?
Get free updates from The Character Handbook and perhaps: The Ritual of Becoming.*:・゚
"We understand how dangerous a mask can be. We all become what we pretend to be."

—Bast, from The Name of the Wind by Patrick Rothfuss
In some ways, the Ritual of Becoming shows you how to craft a new mask for yourself. A post-authentic yet genuine 'persona', if you will.
Paradoxically, we do this not to conceal who we are but rather: to reveal newer and truer facets of ourselves. And in doing so, become so.
Designed for at least 4 kinds of people…
THE HARDWORKING MARTYR
You've been working solidly for some time now—doing what needs to be done to build a life and support those around you. But your work has lost its charm, and it feels like you have been busy since forever. You don't know who you even are outside of the context of work. A new quest beckons—but it's difficult to heed the call to adventure, because you're so busy. The Ritual of Becoming will help you liberate yourself from this narrative.
THE EMERGENT PROTAGONIST
Life has dealt you a difficult hand. The death of someone close to you, disaster, divorce, displacement or a similar-such calamity has befallen you—and this is enough to trigger an existential crisis in anyone. On the surface you're doing fine, but it now feels as though you are an imposter to your own life. You can't relate to who you are anymore, which is scary—but you don't know what else to do. The Ritual of Becoming is not a magic wand, but it may help you find your way.
THE JADED INTELLECTUAL
You have experienced enough 'self-development' programmes to know that they are mostly reductive pseudoscience and woo. At their worst, they are a predatory kind of capitalism—ergo, you are smart enough to steer clear of anything that has even the slightest whiff of charismatic 'thought leadership' to it. And yet—even though you are very well read—superficial forms of nihilism plague your life. You mightn't believe me but: the Ritual of Becoming will help you fabricate new purpose and meaning in life—without compromising intellect or wit. (This is a metamodern programme in disguise.)
THE HIDDEN ARTIST
You have a deep connection to creativity and art. Or rather: you once did. Now, you seem to be living the life of a 'shadow artist'—you support the work of others, but can't commit to your own work. Cynicism pervades. You know that the sense of 'lostness' isn't necessarily a bad thing (there's a wisdom to the insecurity)—but still: you're getting tired of the not-knowing. The Ritual of Becoming provides the structure and space for you to find your own growth.
---
Note: The Ritual of Becoming is not for those seeking a quick fix to the complex issues in life. Or, well, rather: it is indeed for such folk—but only in a way that vexes them, so as to encourage them to be expand their capacity for curiosity and hidden-possible.
Get free updates from The Character Handbook and perhaps: The Ritual of Becoming.*:・゚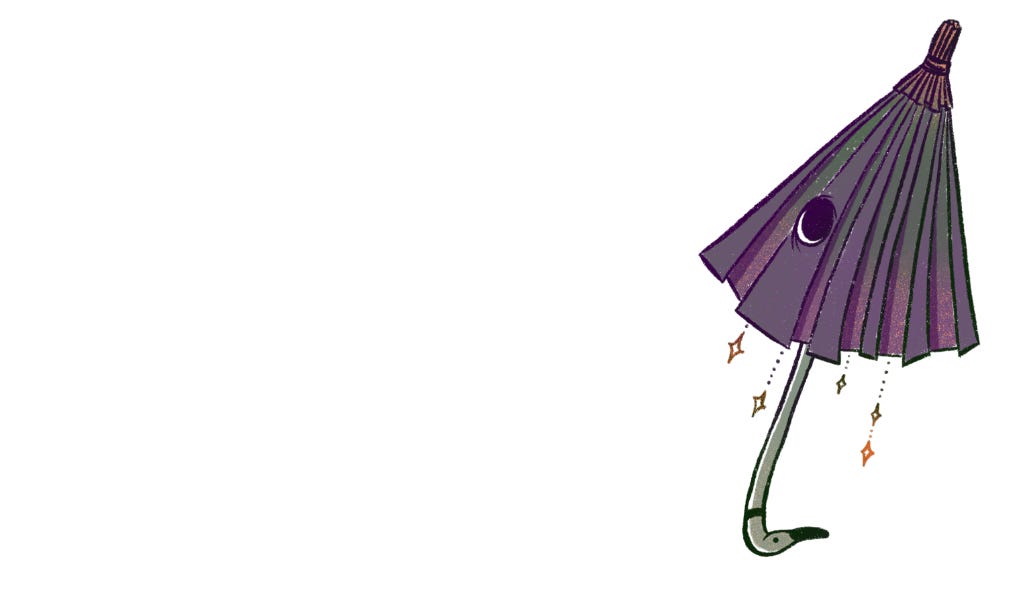 FAQ
~~~~~
Q: Wait, so what is this exactly? It's a free newsletter (to follow my progress in writing The Character Handbook). And for those who want, it is also a comprehensive online 'self-development' programme called The Ritual of Becoming. You can access this by becoming a donating supporter-subscriber.
Q: Do I get all videos at once? Previously (and eventually) yes! But for the meantime: no, not quite. I am currently in the process of moving the programme from another platform to here, updating it as I go.

Q: Do I get any 1:1 time with Dr Fox? Heavens no! (Exception: mythic-level supporters)
Q: Is there a community? Ho! I'd rather this become a means for you to foster deeper connection within your existing relationships and communities. Having said that, there's certainly a vibe happening amongst us. And I do have a secret Coterie of the Fox, and I regularly host related events—subscribe to The Museletter to learn more.
Q: Are the videos captioned? Yes! Just as well.
Q: What's this Ambassador-Affiliate thing I heard about? Oh, that was an underwhelmingly successful endeavour from the previous platform. Given that I am a hipster-wizard of post-capitalist disposition cursed with an allergy to anything that resembles effective marketing, I've had thought to reward folks who help Spread the Word about the programme. Now, I am almost solely relying on Good Will alone. Ha.
Q: What happens if I want to donate more? This is really kind of you, thank you! Well, there's an option in the checkout that lets you donate any amount above the normal fee. This will grant you lifetime access. Donations of $450 (usd) or more will unlock an enchanted private 1:1 deep-chat of half an hour or so, wherein we can talk about whatever might serve you. Make your donation and I'll be in touch to find us a time.
Q: What if I can't afford it right now? Hoho: this kind of programme could easily have a $499 price tag on it—but I want it to reach as many people as it can (in a way that still has you invested in the process). Because: heck—we're all in this together. I've been there, and it's a donation anyways (◕‿◕✿). If you want in on the Ritual of Becoming but your luck is down and you can't afford it right now—or if you happen to live in another country where the exchange rates are a bit prohibitive—I would love for you to join us.
Choose whatever key works for you, my friend.
🗝—there are 5 Keys* to access the otherwise-gated Ritual
* These are for annual plans. All keys access the same content—there is no privileging in the Ritual of Becoming. We are all infinite players here, regardless of circumstance. 🃟
° This key provides free access for 90 days, and can be renewed. Oh, and the Secret is: the gate was never locked—you were and are and will be always welcome.
Get free updates from The Character Handbook and perhaps: The Ritual of Becoming.*:・゚
Meet Your Wizard
What-ho, hi. I'm Dr Jason Fox. You can find out more about me here on my official site, but in a nutshell: I am a metamodern wizard-philosopher masquerading as a leadership advisor. I've lectured in three universities, written two bestselling books and was awarded 'Keynote Speaker of The Year'. I also share the latest of my thinking via The Museletter—a fortnightly epistle read by over 11,000 folks around the world.

Nowadays—when not liberating the world from the delusion of progress—I quest to create a world more curious and kind. The urgent challenges of our times—ecological devastation, systemic inequality, and the meaning crisis—require us all to co-develop and work together at higher levels of complexity. And in the process: to get over ourselves. So: here we are!

This programme was also developed with much sense-making savvy, editing and artistic support from my vet-illustrator-spy life partner Dr Kim Lam (aka the dangerlam). All illustrations are her wondrous work. (ノ◕ヮ◕)ノ*:・゚✧
You're still here? 🧡
This a work-in-progress 'virtual book', meta-blog and online programme by Dr Fox. Illustrations by dangerlam. (CC BY-NC-SA)